Innovating does not mean continually asking yourself how to offer something different to your client without losing recognizability. For example, we could start with a question: Do Skybubbles always have to be spherical to continue being Skybubbles? We present you the new SKB Suite Wide; A different Suite, so much so that it is not spherical.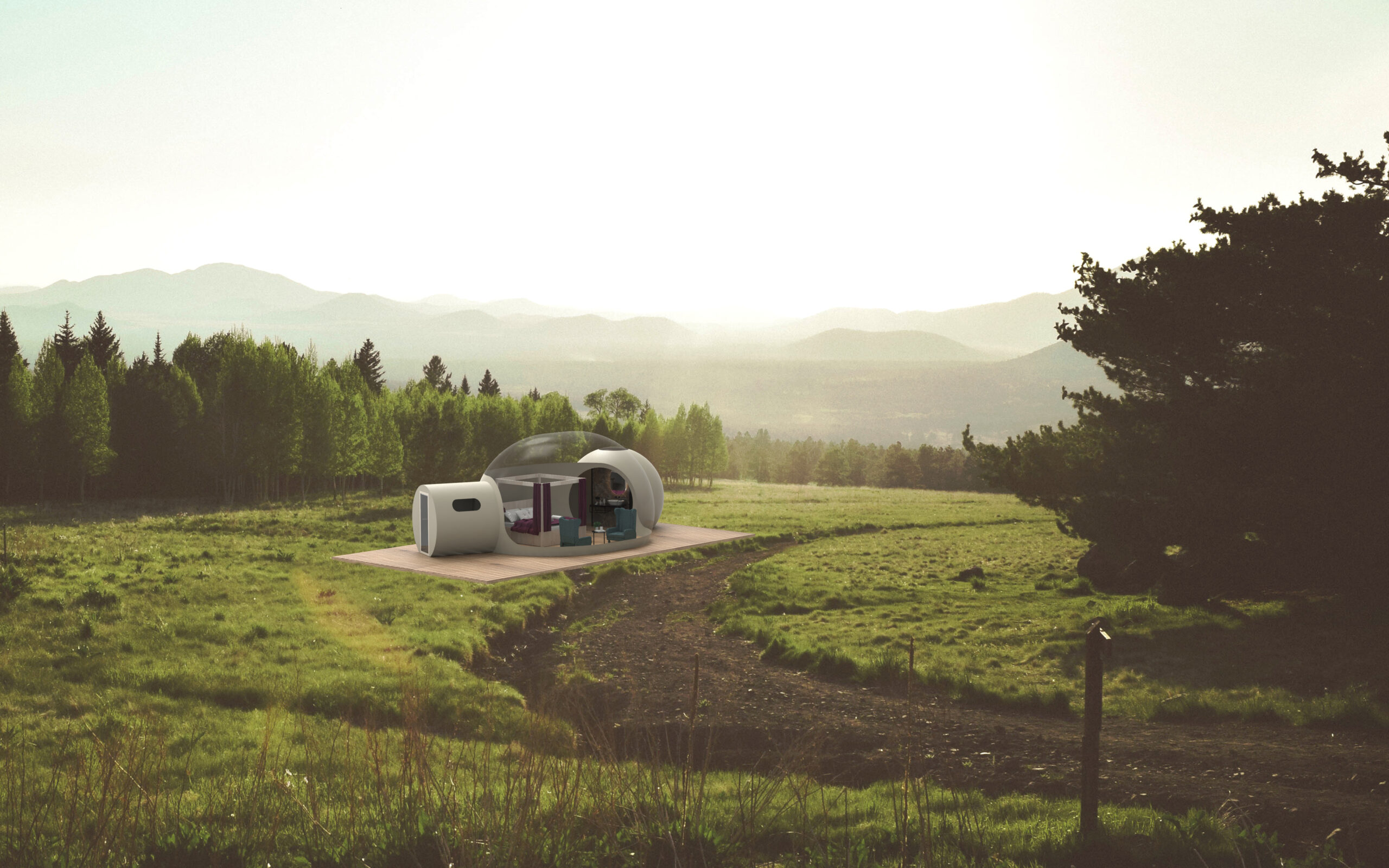 INDOOR USEFUL AREA: 27.70 m2
SPACES: Entrance hall, bedroom and bathroom
CONSUMPTION: 230 W for the turbine + 400 – 3,155 W for the air conditioning equipment.
TECHNICAL CHARACTERISTICS:
Ultra-quiet turbine with power regulator and dust filter with 4-year warranty.
Structure of the entrance module formed by a double arch in anodized and lacquered aluminum and with 4 perimeter tensioners.
Lacquered aluminum doors with key on the outer door. Interchangeable system for easy self-replacement in case of accidental breakage.
Double pressurized air inlet with diffuser.
580gr/m2 prestressed PVC fabric. Fire resistance type B-s2,d0 (Euroclasses) and CLASS A (ASTM E83), 100% blocking of UV rays (UPF 50+), surface finish with PVDF that repels dirt, with a 5-year warranty that includes color degradation. 25 colors to choose from.
Transparent PVC fabric with UV treatment (0.5mm thick), highly transparent manufacturing and type M2 fire resistance. Removable transparent part with zipper for self-replacement.
Removable sun protection cover. With UV and infrared reflective fabric that reduces the interior temperature by 20ºC in hot exteriors.
Seams welded with high frequency technology in 90% of the bubble. Double thread seam with two reinforcement passes on the remaining 10%.
Engineering calculations and real tests up to 120km/h winds.
Individual quality controls per bubble.
Packaging with high resistance fabric and wooden transport box.
Global warranty of up to 2 years for any manufacturing or material defect.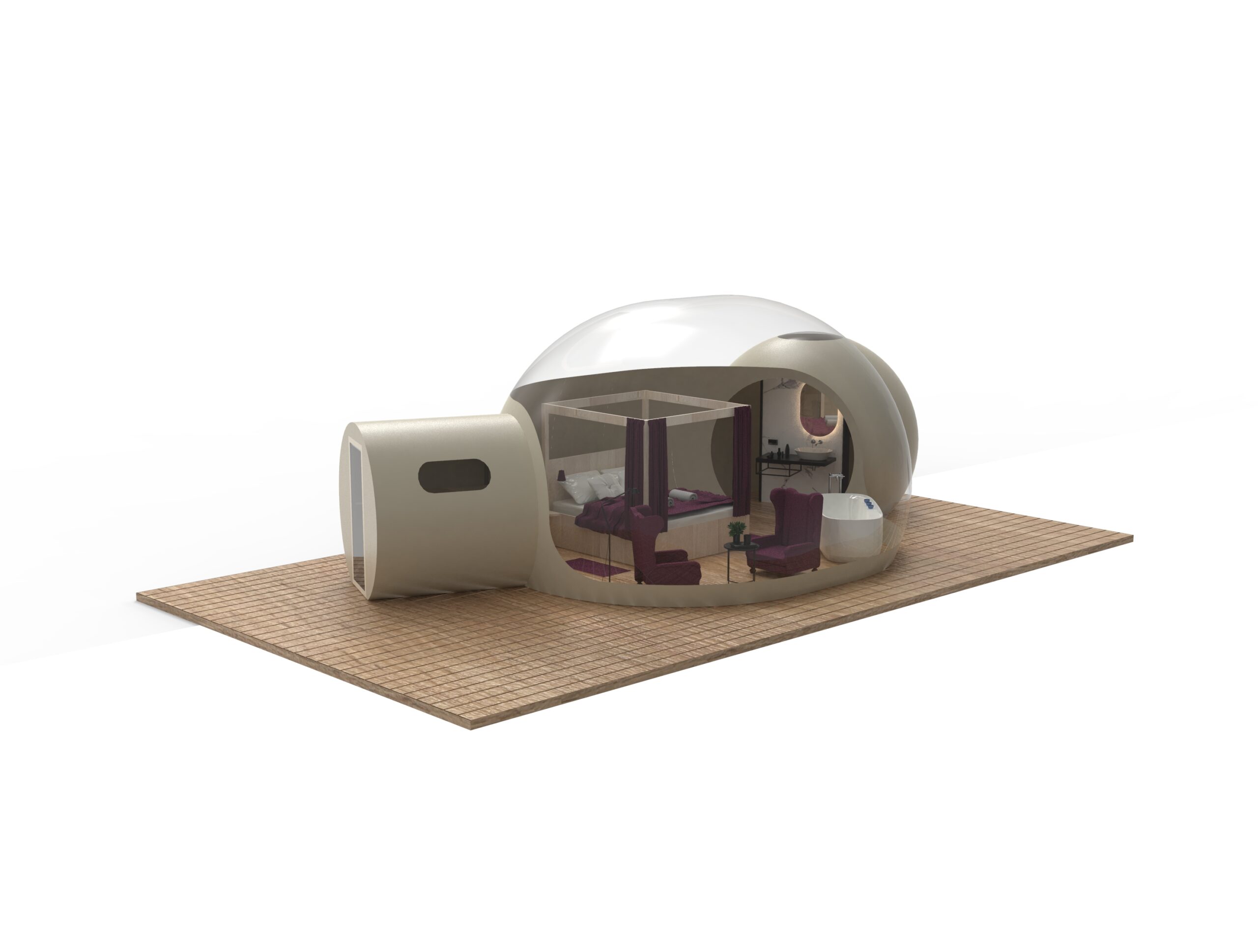 ACCESSORIES
"Details create perfection and perfection is not a detail"
PARQUET
Thought not to worry. There are many brands of laminated parquet on the market, there are even many of them of very good quality. Very few that are compatible with the conditions to which the skybubble is subjected. The parquet is pre-cut from the factory according to the same basic pattern as the bubble so as not to cut anything during the installation. Main features:
BATHROOM
There was no "bath for bubbles" on the market, we had to invent it. We have six models available and every year we renew the collection. They are all designed and tested to match the performance of the Skybubble. We do a pre-assembly in the factory so that everything assembles perfectly in the installation. The system is designed for easy maintenance without masonry intervention. The taps, toilets and accessories are from proven brands to guarantee their durability. It is the essential accessory for the operation and consistency of the Skybubble to be adequate. Main features:
Front with backlit mirror, porcelain washbasin and mixer taps
Back with enclosed shower with single-lever column and wall-hung toilet with concealed tank.
BED
How many manufacturers of beds must there be…? And how many models do each of them make? The 2 models that we offer must have something that more than 50% of our customers prefer one of them. Main features:
King size (180×200)
Aesthetics and functionality designed for the SKB
Customizable finishes and colors
Possibility of incorporating lighting, curtains and switches.
TUNNEL SHELVES
No one will use them… I don't know if it's worth offering them… this was what we said when we were designing them. Now more than 90% of our SKBs come out with tunnel racks. It has become a necessity to have a space in the tunnel to leave luggage, for a coffee maker, for information for guests. Main features:
4 colors to choose
Possibility of incorporating plugs
SOLAR COVER
I still do not know why it is in the accessories section since it is absolutely necessary. Perhaps because "others" do not offer it or do not care about the material and the manufacture of this essential. Without the solar cover, the interior of the bubble can reach 70ºC in summer, with a conventional cover it can be lowered by 15ºC and with the fabric that we have developed especially for this use we have managed to lower another 15ºC. The savings on the bill for 3 months of air conditioning already pay for this accessory. Characteristics:
Reflective fabric of 98.5% of UV and infrared rays
Standard model and full coverage.
AIR CONDITIONING
Either we put it, in national territory, or we advise what models, powers and benefits must be installed. We have tested our SKB from -20ºC to 45ºC and studied the thermodynamic operation within them. This allows us to perfectly define the systems, models and positions necessary for thermal comfort within a SKB. Undoubtedly, the most important accessory for a full customer experience. Characteristics:
Retractable interior model
Invisible model under the platform.
REPLACEMENT TRANSPARENT PART
You have 3 months of reserves of your busy SKB and a small accident occurs to the transparent part. You have 3 options, you put a patch on it and dodge customer feedback, you completely disassemble the bubble, send it to the manufacturer and lose a lot of days of those reserves or you have a replacement transparent part and replace it in 15 minutes. You will see that the cost of the replacement and the repair are compensated in a week. Characteristics:
Model for 4m bubble
Model for 5m bubble
Model for bubble 5x6m
SHALL WE START?
Contact us to explain your project. We will advise you to find your best version.